AIMS OF COMENIUS PROJECTS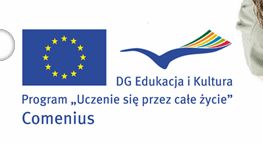 The concrete aims of the project are emerging from the main objective, "to know other people by their specific values and their singularities".




Starting from this idea, the concrete aims are coming off as:
To promote the intercultural education.
To bring out the cultural identity.
To find out directly many things about European people and countries involved in the project.
To know those interesting things in every traditional culture.
To show to the other the local and traditional customs.
To put together many of traditional European values.
To facilitate the groups of pupils from different countries to meet and know each other.
To help pupils from different countries and cultures to bring closer each other.
To offer a good practice for an intercultural education.
The aim of the project TRADITIONS AROUND EUROPE WITHOUT BORDERS This project aims to encourage students and teachers from 16 countries to work together on a topic important to them all:"Traditions". Intercultural education begins with common things and values, valorizing then those singularities of the people. The students and teachers will be stimulated to develop their language skills, their researçch, organizational and social skills as well as their artisitic and creative abilities, by registering legends from popular artisits, translating them into English and then recomposing them into story books, illustrating them, gathering recipes, translating into English and structuring them into cookery books, realizing calendars, presentations, exchanging e-mail or talking in chat rooms with their partners. This collaboration will result in three FINAL TASKS: a calendar, marking the traditional holidays of the partners; a brochure which will describe the holidays; and a cookery book which will contain recipes for traditional dishes of the partners, translated into English too.
In this project our school is one of the 16 school from 15 countries. Our partner schools are:
ZEL CAMLICA COSKUN ILKOGRETIM OKULU Turkey
COLLEGE PRIVE NOTRE DAME France
LYUBEN KARAVELOV SECONDARY SCHOOL Bulgaria
HIGH SCHOOL AND 6TH FORM COLLEGE Great Britain
4th HIGH SCHOOL OF AIGALEO Greece
THE DRIVE COMMUNITY PRIMARY SCHOOL Great Britain
"Genio" Pradine Mokykla Lithuania
Rocca al Mare Kool Estonia
Liszt Ferenc Zeneiskola AMI Hungary
Sc. Sec. di 1grado Ugo De Carolis Italy
The Professional Mealhadas School Portugal
SECONDARY SCHOOL LILA Spain
Colegiul Militar Liceal Stefan cel Mare Romania
Städtische RealschuleBroich Germany
OŠ ANTONA INGOLICA SPODNJA POLSKAVA Slovenia
During two years of the project the teachers and the students from partner schools meet eight times , in eight countries – in Turkey, Spain, Portugal, Germany, Hungary, Greece, Great Britain and France.



MEETING IN ISTAMBUL, TURKEY


30th October – 6th November 2010
The teachers and the students from 16 schools (over 60 people altogether) met in Istanbul on the first Comenius meeting of the project Traditions around Europe without borders. From our school to Istambul travelled: our headmistress Ilona Majak-Gierczak, two teachers: Iwona Bera and Monika Ptasińska-Romanowska (the project coordinator) and two students: Karolina Dacka and Karolina Szczygieł. The first assembly was in the Coscun school auditorium where staff, students and members of the Town Council welcomed us and introduced us to their school. On the opening ceremony we had the opportunity to see Turkish folk dances and hear the traditional Turkish music.
On the second and third day of the meeting every partner presented its own country, city, town and school. Both Our students wore the traditional Polish outfits and thanks to it they could feel like the models because everybody wanted to take a photo with them! During the wonderful week we visited the Dolmabahce Palace, Topkapi Palace, Haiga Sophia basilica, the Blue Mosque, an underground water reservoir and Grand Bazaar and Spice Market, we also went on a Bosporus tour.
One of the evenings all participants visited Turkish families' homes where we had dinner and had the opportunity to experience Turkish culture and try delicious Turkish food.
We had a wonderful time in Turkey and we are looking forward to meeting in Spain.



MEETING IN GRAN CANARIA, SPAIN


31st January – 5th February 2011
The second Comenius group's meeting took place in Las Palmas, Gran Canaria, Spain. The representatives of our school were: the headmistress Ilona Majak-Gierczak, the coordinator of the project Monika Ptasińska-Romanowska and three students: Angelika Stępień, Jagoda Miotła and Milena Chodoła. It was really amazing meeting – firstly because of the weather -in Warsaw -5° while in Las Palmas air temperature just right for shorts and T-shirt. Secondly – the views are really incredible there: clear, blue sea, orange trees and green palm trees… Thirdly – we liked the Spanish cuisine very much – paella is our favourite dish. Apart from getting to know Canarian culture we spent few hours working on the project. Students from every country presented the traditional Winter Holidays. Milena told about Christmas in Poland as well as St. Valentine's Day. She made an impression by singing Ti amo in several languages. It was really unforgettable meeting.

MEETING IN MEALHADA, PORTUGAL


3rd April – 9th April 2011
The trip to Fatima was the first thing on the agenda on our third Comenius meeting in Mealhada, Portugal. Our host was Escola Professional Da Mealhada Uma Porta Sempre Aberta. This time there were five of us: teachers: Ilona Majak-Gierczak, Monika Ptasińska-Romanowska and Iwona Bera and two students Dominika Michalik and Katarzyna Ochnio. The main point of our third meeting was spring and its traditions. Our students told about the first day of spring, Easter in Poland and also about the 1st and 3rd May. We prepared for every partner school traditional Easter basket with Easter eggs, palm, lamb and even spring flowers. We found out a lot of about rich Portuguese culture – Fado music or samba dance. We were delighted with unique atmosphere of Porto and Coimbra. We tried the dishes of traditional Portuguese cuisine with abundance of seafood – it was the first time we have ever tried octopuses.
We were enchanted with the hospitality of Portuguese people, especially the teachers from the Mealhada school: Mrs Christina Simoes and Mrs Manuela Alves and Mr Joacquim Lopez. We will remember the visit in Mealhada forever!



MEETING IN MÜLHEIM AN DER RUHR GERMANY


21st June – 25th June 2011
The end of school year in our school meant the fourth Comenius meeting in Mülheim in Germany. With two students: Norbert Jackowski and Piotr Ptasiński travelled two teachers: Izabela Sadura and Monika Ptasińska-Romanowska. On the first day of the meeting students presented the most popular holiday destination in their countries. Piotrek and Norbert told about Polish mountains, Mazury region and the Baltic Sea. They also distributed the small bottles with ambers inside – the medicine for almost every ailment.
We visited the Cologne Cathedral ( we were really impressed) and Design Museum in Essen. We went by boat to Essen- Kettwig and walked through the old part of this charming town. We had a wonderful evening with German family – they were so friendly and outgoing…
We had wonderful time in Germany and we are looking forward to the meeting in Hungary.



MEETING IN HUNGARY


The 5th Comenius Partnership visit took place in Hungary from October 9-15th 2011. Our hosting school was the music school Liszt Ferenc Zeneiskola in Györ. The teachers: Monika Ptasińska-Romanowska, Karolina Zalewska-Mikita and the students: Maciej Łukasiewicz and Michał Tracz travelled to Györ. During wonderful five days we watched: the wonderful ballet performance, the piano concert by a famous Hungarian pianist, Hungarian folk dancing, the concert prepared by students from Liszt Ferenc School and visited: the Benedictine Abbey near Györ, Budapest -the Citadel, Hero Square, the Buda hillside and the inside of parliament buildings. We tried the typical Hungarian food –goulash soup and many other tasty dishes. We could see the presentations about music of every partner country. Our students gave an amazing performance – Maciek sang rock'a'roll song (and danced) and Michał presented beatbox. It was one of the best presentation! We were impressed by hospitality and friendliness of Hungarian people and very rich Hungarian culture and traditions. We are looking forward to the next Comenius meeting in January 2012 in Athens, Greece.



MEETING IN ATHENS, GREECE


23rd-29th January 2012
The sixth meeting of the teachers and students involved in Comenius project "Traditions around Europe around borders" took place on 23rd-29th January 2012 in Athens. The representatives of our school were: M. Ptasińska-Romanowska, M. Batyra, I. Kramek and A. Bartoś.
The main subject of the meeting were national dances. The opening ceremony consisted of several, really impressive Greek dances. But it was only the beginning… We also watched the national dances of all the partners' countries. Our students showed the presentation about mazur, kujawiak, oberek and krakowiak. They also danced the short version of polonez (walking dance).
Apart from amazing dances we tried delicious (and sometimes surprising) Greek cuisine – with moussaka, kebab and doughnuts with …. honey.
We visited: the Acropolis and saw the buildings we know from history books, wonderful ancient amphiteatre in Epidauros and the former capital city of Greece – Napflion.
We liked everything about Greece. We are sure we won't forget our "great Greek adventure".



MEETING IN LYTHAM ST. ANNES, ENGLAND


19th March 2012 was the first day of Comenius meeting in the United Kingdom. Our representatives in Lytham St. Annes were M. Ptasińska-Romanowska, M. Batyra and M. Barczyk. The host school was LSA Technology&Performing Arts College. During the whole week we visited Blackpool Tower, Albert Docks in Liverpool and places connected with the most famous band ever – the Beatles. We tried typical English food: fish&chips, custard sauce, black pudding or hash browns. We danced the Lancashire dance – so called clog dance and we took part in a stomp practice. We could see: how lessons look like in English school, school uniforms, school canteen…- the things we usually read about in English textbooks. The meeting was the great opportunity to practise the language and learn a lot about English culture.



MEETING IN BRESSUIRE, FRANCE


From the 12th Jun till 19th Jun 2012 teachers (M. Ptasińska-Romanowska , M. Kobiałka) and students (A. Włodarczyk,
B. Cięszczyk) from our school took part in the last Comenius meeting in the project "Traditions around Europe without borders". It was organised by COLLEGE PRIVE NOTRE DAME in Bressuire in the west of France. Our journey to the meeting began in Warsaw where we took a plane to Paris. From Paris to Angers we travelled by TGV – very fast train – it was quite an experience for all of us…At the railway station in Angers host families waited for us and took us to our destination, Bressuire. The meeting was a kind of summary of two year project – that's why the Film Festival was organized. Every partner had to make a film about the project, the meetings, the impact of the project…French school prepared real Oscar ceremony – red carpet, Oscar nominations, awards…It was really nice to go back in time and see again the wonderful moments we had during the project… We also visited the medieval theme park Grand Parc Puy du Fou and beautiful city La Rochelle, we tried typical French food, danced the traditional French dances. The meeting was great as the last two years and it was really difficult to say goodbye…